Colombia's Farc rebels release two more hostages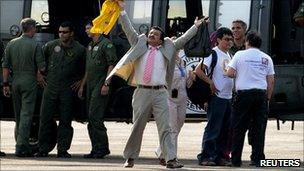 Colombia's Farc rebels have released two hostages, bringing the number released so far this week to three.
The hostages - a local politician and a marine - were handed over to a humanitarian delegation in the jungles of southern Colombia and flown out on a Brazilian military helicopter.
The rebels have said they will free two more captives on Sunday.
The Colombian government has made the release of all hostages a condition for any peace talks with the Farc.
The two hostages - municipal council member Armando Acuna, 48, and marine Henry Lopez, 25 - were released in separate locations in the southern department of Caqueta.
The guerrillas handed them over to a delegation that included officials from the International Red Cross and the ex-Colombian senator Piedad Cordoba, who helped mediate their release.
Mr Acuna, who was kidnapped in May 2009, emerged from his jungle ordeal in an incongruous suit and tie, clutching the shirt of his local football team.
"It is time to move forward on the road to peace and reconciliation, seeking with dignity a solution to the Colombian conflict," he said.
He also urged an end to the use of kidnapping as a "political weapon" in Colombia and called on the Farc to stop attacks on local government officials.
Marine Lopez - who was captured in May 2010 after an ambush in which nine other marines were killed - did not appear before the media.
Earlier this week the Farc freed another local councillor, Marcos Baquero.
The Farc has been describing the releases as a unilateral "gesture of peace" to the government.
The rebels are still holding at least 15 police and military personnel, who they have been trying to exchange for captured guerrillas.
Some of the hostages have been in captivity for more than a decade.
President Juan Manuel Santos has made the release of all hostages a condition for opening peace talks with the Farc, along with an end to attacks and the use of land mines.