Cold snap hits Mexico maize crop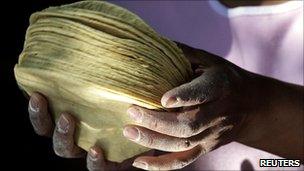 A spell of unusually cold weather in northern Mexico has severely damaged the maize crop in the state of Sinaloa.
Officials estimate the losses could amount to four million tonnes of corn - 16% of Mexico's annual harvest.
President Felipe Calderon said everything possible must be done to re-sow the fields over the next two weeks.
There are fears the losses could force up the price of the corn tortillas that most Mexicans eat with every meal.
Officials say up to 600,000 hectares (1.5m acres) of maize have been lost to frost in Sinaloa, which is home to some of Mexico's richest farmland.
At a meeting with Sinaloa farmers and state officials, President Calderon promised federal aid, credit and prompt insurance payments to help farmers get new crops in fast before it was too late in the season.
"It is not an ordinary catastrophe or the simple loss of a harvest, but an emergency situation that demands a clear and forceful response from the authorities, a response that is not lost in bureaucratic delays," he said.
"It's not just the billions of pesos that may be lost," he added. "We have to recover all we can because it is vital for feeding the country."
Tortilla prices have already been rising in line with a spike in grain prices on global markets.
In 2007 high tortilla prices provoked widespread protests in Mexico.
Maize was first domesticated in Mexico and remains the main staple crop.