Chile hit by powerful earthquake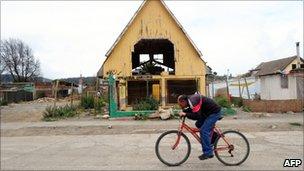 A 6.8-magnitude earthquake has struck central Chile, in the region that was hit by a huge quake and tsunami in February last year.
Thousands of people fled to higher ground but there have been no reports of deaths or serious damage.
In the following hours two smaller quakes struck in the same area.
President Sebastian Pinera praised Chileans for responding quickly, saying they had learned the lessons of last year's quake and were better prepared.
"Experts and seismological centres have said that we can expect aftershocks up to five years after the earthquake of 27 February [2010]," the president warned.
The epicentre of Friday's earthquake, which hit at 2005GMT, was under the Pacific Ocean, about 45km (30 miles) north of Concepcion.
Two smaller quakes over the next five hours struck slightly nearer to the city.
The director of Chile's national emergency agency (Onemi) said "people reacted with concern".
Some hurried into the streets, with those near the ocean seeking higher ground from fear of a possible tsunami.
"There was a preventive self-evacuation" said Onemi director Vicente Nunez, adding that people could now return home.
Electricity and phone services disrupted in some areas.
But the navy "totally discounted any risk of a tsunami," said Vice-Interior Minister Rodrigo Ubilla
Chile is still rebuilding after last February's massive quake, which smashed infrastructure and triggered a tsunami that devastated several coastal towns, killing more than 400 people.
Related Internet Links
The BBC is not responsible for the content of external sites.