Gunmen kill eight in Mexico City suburb drive-by attack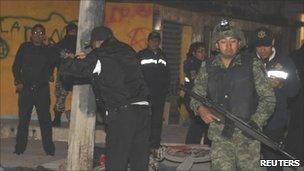 Mexican officials say unidentified gunmen have killed eight people in Nezahualcoyotl, a working-class suburb of the capital, Mexico City.
The attack comes shortly after another mass shooting in the area, which police say has not seen the levels of violence common in some northern Mexican states.
Police say the shooting may have been part of gang warfare for control of the city's drugs market.
The victims were all aged between 16 and 25 years old.
Eyewitnesses said the gunmen opened fire from three cars, killing six males and one female gathered at a street corner.
The body of another female victim was found a few streets away.