Mexico drug violence kills 18 in Tamaulipas state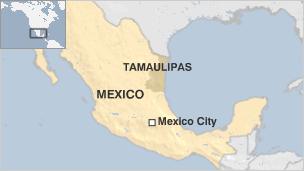 At least 18 people have been killed in a series of gun battles between rival drug gangs in the north-eastern Mexican state of Tamaulipas.
Eleven people died in incidents near the city of Padilla - including five residents, five passengers of a passing car and a bus passenger.
The clashes continued inside the city. Seven bodies were found in Padilla's main square.
Official buildings were badly damaged in the clashes, police say.
The state of Tamaulipas is at the centre of a turf war between the Gulf and Zetas cartels over drug trafficking routes into the US.
In June, a candidate for the governor, Rodolfo Torre Cantu, was killed on the campaign trail in an attack blamed on drug gangs.
In August, the bodies of 72 Central and South American migrants were found inside a ranch in the state, after they allegedly refused to pay an extortion fee to the gangs.
In a separate incident in the neighbouring state of Nuevo Leon, a state intelligence chief was also killed on Sunday, AFP news agency reports.
Officials said Homero Salcido died as he drove his car in Monterrey.
Mexican President Felipe Calderon launched a crackdown against the drug cartels in December 2006.
In the past four years, some 34,600 people have died in drug-related violence, according to official government figures.
Related Internet Links
The BBC is not responsible for the content of external sites.