Carmen Aristegui reinstated by Mexico radio station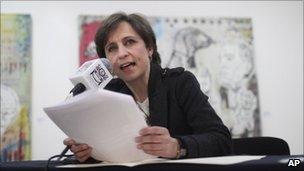 A Mexican radio station has rehired journalist Carmen Aristegui, who was sacked after she made comments about President Felipe Calderon.
MVS said Ms Aristegui would return to her morning show next Monday, two weeks after she was fired for "violating the station's code of ethics".
Ms Aristegui had said the station was pressured by the presidency to make her apologise, which she refused to do.
The president's office denied any involvement in her sacking.
A joint statement by MVS and Ms Aristegui said she was returning after discussions and after evaluating the views of the listeners.
Ms Aristegui, a well-known radio and TV journalist, was fired after she said on air that the presidency should respond to allegations that Mr Calderon had drinking problems.
MVS said at the time she was sacked for violating the station's code of ethics by broadcasting rumours as news.
The presidency said rumours about Mr Calderon did not merit a response, while his private secretary said that the president enjoyed good health.
Ms Aristegui's sacking was hotly debated on social networks in Mexico. It was also widely reported in the mainstream media, with some columnists saying her dismissal raised questions about the freedom of the media in Mexico.
But others said the allegations about Mr Calderon were malicious lies.
Related Internet Links
The BBC is not responsible for the content of external sites.