Florence Cassez row: Mexico's Fuentes attacks Sarkozy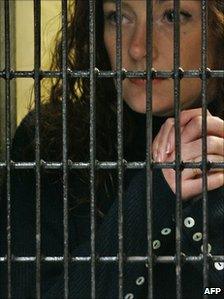 Mexican writer Carlos Fuentes has accused French President Nicolas Sarkozy of behaving like a "banana republic dictator".
He said Mr Sarkozy had turned the case of Florence Cassez - a Frenchwoman jailed in Mexico - into an affair of state in a bid to boost his popularity.
Mr Sarkozy has called for France's "Year of Mexico" festival to be used to highlight the case of Florence Cassez.
She is serving a 60-year jail sentence in Mexico for kidnapping.
Carlos Fuentes, one of Mexico's best-known novelists, entered the diplomatic fray late on Tuesday, telling a Mexican radio station that President Sarkozy was using the Cassez affair to boost his flagging approval ratings.
Mr Sarkozy was behaving like the "dictator of a banana republic", said Mr Fuentes, who was Mexico's ambassador to France in the mid-1970s.
The Cassez case should be completely separated from the events in France, Mr Fuentes, said, saying that cultural relations were one matter but diplomatic, political and judicial relations another.
President Sarkozy had said the year-long festivities celebrating Mexico should be dedicated to Florence Cassez, provoking a furious reaction from the Mexican government.
Unless the events could go ahead as originally planned Mexico would be obliged to withdraw, a foreign ministry statement on Monday said.
However, Mr Sarkozy reiterated on Tuesday that he would not give up on Cassez's case.
"I am determined to solve the serious humanitarian problem of Florence Cassez," he said.
Tensions flared last week after a Mexican appeal court upheld Cassez's conviction of involvement in three kidnappings, as well as her 60-year jail term.
She was arrested in 2005 at a ranch near Mexico City where three kidnapping victims had been held for two months.
It later emerged that the arrest, as seen by the public, was in fact a re-enactment staged by the police for the media.
Ms Cassez has always said her only connection with the case was that she was the girlfriend of one of the kidnappers.
But her victims identified her and said she took an active role in their abductions.
Her lawyers argued that her trial had been prejudiced from the start because she had been paraded in front of the media as guilty.
But the court rejected that argument, saying that the TV footage was not formally considered during the trial.
Her lawyers also cast doubt on the testimony of the kidnap victims who identified her.
Mexico has one of the world's highest kidnap rates, with victims sometimes murdered even after ransoms have been paid, and Ms Cassez's case has attracted little public sympathy.
But many people in France believe she is innocent, and in 2009 President Sarkozy pleaded for her to be allowed to serve her sentence in a French jail.
Related Internet Links
The BBC is not responsible for the content of external sites.