Guatemala 'thieves' lynched over flour theft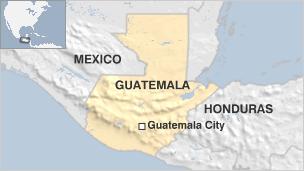 Police in Guatemala say four suspected thieves have been lynched in a suburb of the capital, Guatemala City.
A group of local residents seized the men after they had allegedly stolen a truck carrying flour.
They were beaten and dragged to a football field, then set on fire.
Human rights groups say there were more than a hundred lynchings in Guatemala last year, mainly in areas where there was little or no police presence.
Officials said residents stopped firefighters from gaining access to the football field where the lynching took place.
Eyewitnesses said the suspects overpowered the driver, passenger and security guard of the truck, as they were delivering flour at a local bakery.
The suspects drove away with the truck, but local residents managed to stop them before they could leave the area.
They were pulled from the vehicle and severely beaten while being walked through the streets to a nearby football field.
A group of residents then poured petrol over them and set them alight. The residents told local media they had been enraged by a series of robberies in their area this month.
Non-governmental organisation Mutual Support (GAM) said 39 people died in lynchings in Guatemala last year, with many more left severely beaten and injured.
Related Internet Links
The BBC is not responsible for the content of external sites.