More than 11,000 migrants abducted in Mexico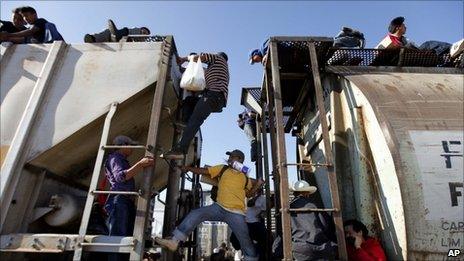 More than 11,000 migrants were abducted in Mexico over a six-month period last year, Mexico's National Human Rights Commission says.
Most of the victims were Central Americans trying to reach the US.
Many were snatched by criminal gangs, either to extort money from their families or in some cases to force them to work for the drug cartels.
The plight of migrants was highlighted last August when 72 people were found murdered on a ranch in northern Mexico.
Mexico's human rights commission, CNDH, said migrants were exposed to kidnapping, extortion, discrimination, exploitation, as well as physical and sexual abuse.
"The nature of the crime and the vulnerability of the immigrants does not allow us to know the total number of abductions," the commission's president, Raul Plascencia, told a news conference in Mexico City.
However, based on accounts from victims and witnesses, the CNDH documented 214 cases of mass kidnapping from April to September 2010, involving a total of 11,333 people.
The commission said the drug gangs often demanded a ransom from families of $1,000 to $5,000 to ensure their relative's release.
The report also found that migrants were sometimes used as informants to help gangs carry out abductions.
"There are Central American migrants in the organised crime groups that kidnap migrants," Mr Plascencia said.
The CNDH says that 44% of the victims were from Honduras, 16.2% from El Salvador, 11.2% were Guatemalans, 5% Cubans and 4.4% from Nicaragua, while 10% were Mexican nationals.
Testimonies collected by the CNDH related how armed groups ambushed the migrants as they rode trains northwards, how they were forced to hand over money or give contact details for their families.
"They beat me, forced me to give them the numbers in Honduras and those up there (in the US). They spoke to my brother, demanding $3,000 for my release or I would suffer the consequences," said one man.
There were also numerous accounts of rape and other sexual abuse.
"They raped two of the women every day. They looked like rags, those women," a Guatemalan man recounted.
Mr Plascencia called on the Mexican authorities to do more to combat the kidnapping of migrants and guarantee their human rights.
Related Internet Links
The BBC is not responsible for the content of external sites.