Brazil companies Petrobras and Vale post record profits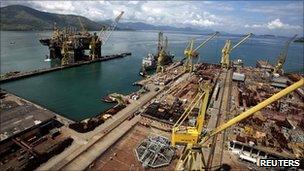 Brazil's two biggest companies have posted record profits for 2010, in the latest sign of the South American nation's growing economic might.
The oil giant Petrobras - which is partly state-owned - made $20bn (£12.4bn).
The mining company Vale made $17.3bn (£10.7bn), more than tripling its profits of the year before.
The two Brazilian companies have benefited from high global prices and rising demand for oil and iron ore.
Both are planning major expansion in the next few years.
Petrobras's profits were up 17% on the year before, largely as a result of high oil prices.
The oil giant raised $70bn in funds last year in the world's largest-ever public share offering.
That capital will be used to fund the development of huge oil reserves recently discovered off the coast of Rio de Janeiro.
Vale, the world's second biggest mining company and biggest iron ore producer, said its highest-ever net profits were the result of a "stellar performance".
"We are living through our best days," Vale's chief executive Roger Agnelli said in a company statement.
"However, given the size and quality of our pipeline of growth projects, amid a scenario of sustained global demand growth for our products, I strongly believe that even better days are ahead of us," he added.
Vale operates in more than 30 countries, but the export of Brazilian iron ore - above all to China - accounts for around two-thirds of its revenue.
It has been enjoying much higher income since it moved from an annual to a quarterly system for negotiating ore prices.
Other major oil and mining companies around the world also posted huge profits for 2010 as the result of high commodity prices and rising demand in emerging economies, coupled with economic recovery in developed nations.
Earlier this month Brazilian President Dilma Rousseff announced $30bn in public spending cuts in order to curb inflation and help stop the economy from overheating.
Related Internet Links
The BBC is not responsible for the content of external sites.