Brazil power cable accident during parade kills 17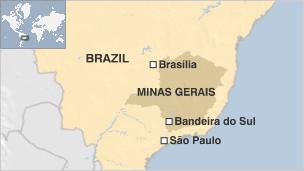 At least 17 people have died in a small Brazilian town after a live power cable broke and fell into a crowd of people enjoying a pre-Carnival street party.
It happened in the town of Bandeira do Sul in Minas Gerais state, north of Rio de Janeiro.
A crush of people were dancing near a truck playing loud music in the main square when the cable came loose and fell among the revellers, said reports.
Dozens of people were hurt, some seriously.
The town was plunged into darkness and telephone services were disrupted immediately after the accident.
"It was chaos. People were electrocuted, and many people fell off the music truck. At that moment the lights went out. It was awful," Daniel de Oliveira Castro, 25, told the Brazilian news website Folha.com.
The exact cause of the accident is not yet clear, with some accounts suggesting a firework set off by someone in the crowd tore the cable off and others suggesting the music truck pulled it down.
"We will know what really happened once firefighters complete their investigation," said Mayor Jose Capituva.
Several teenagers were among those taken to hospitals in the area. Five remain in a serious condition, say reports.
The street parade was one of several scheduled in the run-up to Carnival itself, which begins on Friday.