Nicaragua's Daniel Ortega set to run for third term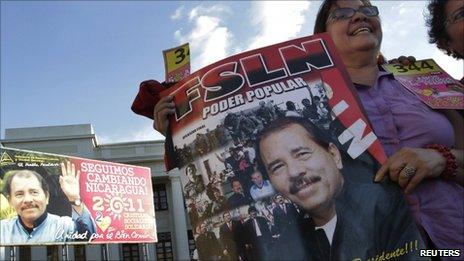 Nicaragua's President Daniel Ortega is set to seek a third term in office next November, after securing his Sandinista party's nomination unopposed.
Mr Ortega was backed by all the delegates at a special Sandinista National Liberation Front (FSLN) congress at the weekend.
The opposition says his candidacy is illegal, as the constitution forbids seeking consecutive terms.
But in October 2009, the Supreme Court said the constitutional ban was "unenforceable" and the electoral court accepted that ruling.
Both institutions were heavily criticised by the opposition, which argued that they had fallen under the control of judges appointed by the ruling Sandinista Party.
The term of several of the judges has expired, but they remain on the court thanks to a controversial decree issued by President Ortega in January 2010, after parliament failed to reach an agreement on appointing their replacements.
Accepting the nomination on Saturday, Mr Ortega vowed to continue fighting for the Nicaraguan poor.
"They (the opposition) had 16 years in power and we only have been here for four years, just starting the fifth one, that's why it is so important to guarantee we can ensure the continuity of our project in the next elections," he said.
He also promised international observers would be welcomed if they were "respectful" and did not attempt "to take over" the Supreme Electoral Council.
Opposition candidates immediately welcomed the promise but said it was too early to say whether Mr Ortega would stand by his word.
In November's election, Mr Ortega is likely to face another former president, Arnoldo Aleman, as well as a 79-year-old conservative and radio personality Fabio Gadea.
His candidacy at the helm of a coalition of opposition parties was also made official during the weekend.
Mr Gadea was a fierce opponent of the Mr Ortega during his first time in office, which started in 1979 after his Sandinista Party ousted the dictator Anastasio Somoza.
Mr Ortega first acted as the coordinator of a governing "junta" but was elected president in 1984 and remained in office until 1990.
That year he lost his first bid for re-election, and failed again in 1996 and 2001.
But he returned to the presidency after winning the 2006 elections.
Related Internet Links
The BBC is not responsible for the content of external sites.