Residents flee Bolivia's mega-mudslide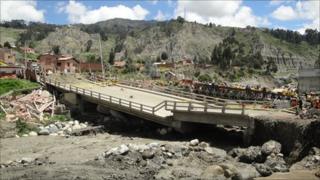 "This does not look like a landslide, but a massive earthquake."
Jose Joaquin Mamani is carrying on his back a few of his belongings, wrapped in a dirty white sheet. "There is nothing that can be saved," he says.
He is among thousands of residents evacuating Irpavi II, one of the many neighbourhoods in La Paz affected by last weekend's landslides which destroyed or damaged more than 1,500 houses.
Mr Mamani pleads for help. "We do not know where to go. We are just leaving this area.
"My house and cattle were buried under mud. But we are alive - that is the most important thing." His eyes get fill with tears as he talks about his children.
'Help us!'
There is a constant flow of people leaving their houses in ruins to move to stable ground.
They carry furniture, clothes - anything they can grab in desperation - to cross a swollen river that threatens to swallow the only bridge left standing.
"Mr President, help us," cries Rina Valencia Escalante.
She had been living in the area for more than 20 years and had not finished paying her house.
"I still owe $8,000 (£4,900)," she says, hoping the debt will be written off.
Ms Valencia, like most people here, did not have insurance on her property, and has nothing left.
President Evo Morales has promised he will not abandon the people left homeless, with the government promising to build new homes.
But for the more than 6,000 people directly affected by the landslide, the priority now is to deal with their urgent humanitarian needs.
Water warning
On Tuesday, the government launched a national campaign to ask for money and donations for the victims.
The local and national governments have also mobilised thousands of rescuers, police and troops to help in the evacuation, and to relocate residents to temporary accommodation.
People are being housed in wooden shelters and tents as well as schools, and tonnes of dried food, clothes and mattresses are being provided.
The mayor of La Paz, Luis Revilla, told the BBC that since Sunday the affected area had almost doubled in size, from 80 to 140 hectares, but he believed the worst was over.
He said he hoped the weather would not deteriorate.
Despite criticism from residents, who complain they had received little information of the dangers their houses were facing, Mr Revilla said the authorities were doing everything they could considering the scale of the disaster.
"This is the biggest landslide in the city of La Paz since records began," he said.
"All the preventive measures we had put into place in the area proved insufficient to stop a landslide of such magnitude."
One of many involved in the rescue effort in Irpavi II is Fabian Yaksic, a member of parliament.
He says that, among the misery faced by homeless residents, thousands of people living on lower ground face the prospect of being without water for six months or more.
"We carried out an inspection and found out that, unfortunately, the main pipe [which takes water to many parts of the southern district of La Paz] is broken," Mr Yaksic says.
"A new pipeline needs to be built," he says.
But the pipes may have to be imported from as far away as the US, adding more time to the repair work.
Exposed city
Landslides are common in La Paz, and every year whole chunks of mountains crumble, and sometimes bury residents alive. Alain Malatrait, a French geologist who made a risk assessment of the city ground 30 years ago, told the BBC that 60% of it was prone to geological problems.
"The risks in La Paz are water erosion, gravitational movements [such as landslides], flooding by rivers and earthquakes," he says.
"There are several places that are exposed to landslides but it is difficult to know which neighbourhoods are more at risk now, and which ones will be next."
La Paz, a city of a million people, has grown rapidly, often at random, in the past few decades along the sides of its many canyons.
It also sits on an estimated 400 rivers and underground streams, which swell during the rainy months of January and February.
Given the known risks faced by the city, homeless residents are asking why permission was given for their houses to be built on steep slopes so vulnerable to landslides.