Peru halts operation against illegal miners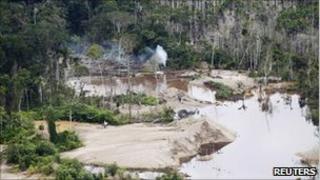 The security forces in Peru have cut short their campaign against illegal gold miners in the Amazon region after protests by the miners turned violent.
Environment Minister Antonio Brack said he had suspended the operation to give wildcat miners a chance to register with the Peruvian government.
At least two miners have been killed in clashes with the security forces over the past week.
The government says illegal mining is harming the environment.
But high gold prices continue to draw thousands of people from impoverished parts of Peru to the Madre de Dios region, which is at the centre of the gold rush.
Peru is the sixth biggest producer of gold and the Madre de Dios region is estimated to provide a tenth of that gold.
Some 10,000 people are thought to live off the proceeds stemming from illegal gold mining in the area.
The government says 18,000 hectares of jungle have been destroyed by illegal mining and large portions of the area's waterways show high levels of mercury, used in the mining operations.