Mexican soldiers charged over methamphetamine haul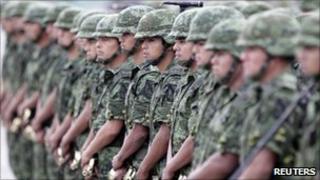 Thirteen soldiers in Mexico have been charged with drug trafficking after they were allegedly found in possession of almost a tonne of the synthetic drug methamphetamine and 30kg of cocaine.
Methamphetamine is a highly addictive stimulant often made in home labs.
A military commander said the soldiers had been transporting the drugs to Tijuana, on the US border.
Mexican President Felipe Calderon has deployed around 50,000 soldiers to help fight his war on drugs.
The military commander in Tijuana, Gen Alfonso Duarte, said the accused had been transporting the drugs by land from the capital, Mexico City, to Tijuana.
The Mexican Ministry of Defence said it would not tolerate such acts and announced that the men would be brought before a military court.
According to the United Nations' 2010 World Drug Report, the US methamphetamine market is predominantly supplied from Mexican-based criminal groups.
The report says that the number, size and sophistication of meth laboratories in Mexico has increased dramatically over the past five years, as well as the amount of methamphetamine trafficked into the US.