Amnesty says Guatemala must act on killing of women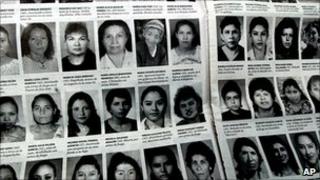 Guatemala must do more to stop high numbers of women being killed across the country, Amnesty International has said.
The authorities must also do more to ensure the perpetrators are brought to justice, the human rights group said on the eve of International Women's Day.
According to official figures, 685 women were killed in Guatemala in 2010.
Guatemala has one of the highest murder rates in the world, but less than 4% of cases end in a successful conviction.
"Women in Guatemala are dying as a consequence of the state's failure to protect them," Amnesty's Guatemala researcher Sebastian Elgueta said.
"High levels of violence and a lack of political will along with a track record of impunity mean authorities are unable to pursue perpetrators, or just don't care," he added.
"Perpetrators know they will not be punished."
In 2008 Guatemala passed a law specifically aimed at violent crimes against women, but Amnesty says the authorities are not making full use of their powers.
Guatemala's high rate of violent crime is widely seen as a legacy of the 1960-96 internal conflict between the state and left-wing guerrillas, in which more than 200,000 people were killed, most of them by the army.
Since 2008 a UN-backed International Commission Against Impunity (CICIG) has been supporting Guatemala's justice system and trying to end a deeply-entrenched culture of impunity.