Obama's Brazil visit: Fresh start for ties?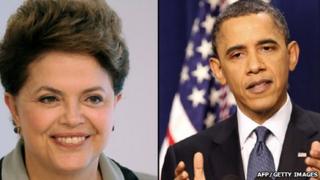 Barack Obama's trip to Brazil this weekend differs in a marked way from the previous 14 visits by US presidents, writes analyst Paulo Sotero.
For the first time since the restoration of democracy in Brazil in 1985, a high-level bilateral dialogue will start with the US leader heading south. Until now, it was the other way around. Brazilian presidents were expected to go first to Washington.
Three of the last five, including Luiz Inacio Lula da Silva, felt it was necessary to visit the White House even before taking office.
So in this sense, Mr Obama's visit to Brazil - the first stop of a four-day trip that includes Chile and El Salvador - is a meaningful symbolic gesture.
Taking place in the first three months of President Dilma Rousseff's administration, it clearly reflects the desire of both governments to renew an important relationship.
Diplomatic ties were seriously strained by the 2009 constitutional crisis in Honduras and Brazil's failed 2010 attempt, along with Turkey, to mediate a nuclear agreement between Iran and the international community.
More importantly, President Obama's initiative to visit Brazil before greeting President Rousseff in Washington can be seen as recognition by the US of the new relevance the South American giant has assumed in regional and global affairs since becoming a democratic and economically stable nation.
"Brazil is no longer an emerging country, it has emerged," says the US ambassador to Brazil, Thomas Shannon.
Mr Shannon believes both nations have now to learn how to relate to one another in productive and mutually advantageous ways when dealing with regional and global issues in which both are key actors.
These include the world's economic governance, climate change, food security, poverty reduction, global health and peace.
Debt and deficit
The policy context makes the positive message implicit in Mr Obama's trip to Brazil even more relevant.
The difficulties both he and his Brazilian counterpart face to implement their respective governments' agendas involve strikingly similar issues.
In the US, as in Brazil, the challenges are to reduce public debt and deficits and improve the quality of public expending.
At the same time, both have to find ways to increase the quantity and quality of investment in education, infrastructure and innovation, and make their economies more competitive internationally.
Gender and race equality are shared concerns of Presidents Rousseff and Obama, respectively the first female and first black leaders of their countries, and are likely to be highlighted during the visit, especially when Mr Obama meets the people of Rio de Janeiro on Sunday.
With US companies eager to invest in Brazil's expanding economy, the two presidents will be meeting business leaders in Brasilia to announce agreements to increase co-operation in energy, infrastructure, science and technology and international development assistance, especially in Africa, where both countries have economic and political interests.
The visit is not expected to resolve old differences, such as the ones that have persisted for decades in agricultural trade and remain the bone of contention at the inconclusive Doha Round of the World Trade Organization.
China's under-valued currency, which has a negative impact on Brazilian and US international commerce, is unlikely to be highlighted in public by Ms Rousseff during Mr Obama's visit for two reasons.
Firstly, Brazil also has grievances against the "qualitative easing" policy of the US Federal Reserve, which adds pressure to the already overvalued Brazilian currency, the real.
China is now the number one buyer of Brazil's exports and the country's largest trading partner, while the US remains the largest supplier of Brazil's imports, with $27bn (£17bn) sold last year, $2bn more than China.
Secondly, Ms Rousseff is scheduled to visit Beijing in April and has no interest in picking a fight with the Chinese authorities, despite demands from Brazilian industrialists that she does so and protects the market for Brazilian-made products.
World stage
In recent weeks, US officials have said that Brazilians should not count on an announcement during Mr Obama's visit of US support for Brazil's long-standing demand for a permanent seat on a reformed United Nations Security Council.
Meanwhile, a senior Brazilian official told an American diplomat that Mr Obama's trip would be viewed as a failure if he did not make such an announcement.
Efforts by Itamaraty - the Brazilian foreign ministry - to include in the visit's final communique a reference to a common vision on international security and development and the importance of the Security Council reform suggest, however, that Brasilia recognises the need to rebuild the mutual confidence lost during the Iranian episode.
Brazil, it seems, would be satisfied with less than a full endorsement for the time being.
In Washington, at the same time, the reverberations of popular pro-democracy uprisings in North Africa and the Middle East and a sense of inevitability of a rising Brazil's ascension to the Security Council have encouraged those who would like to see President Obama repeat in Brasilia what he did last year in Delhi and announce his support for Brazil's UN seat.
In a recent meeting of former senior US officials, including some ambassadors, a majority expressed support for this idea.
"Both the Security Council reform and Brazil's ascension to permanent member are inevitable. They entail little or no cost to the US and will produce no immediate consequence, since the issue of Security Council reform is not currently in the UN agenda," said one of the meeting's participants.
Those who share this opinion argue that the immediate impact of US backing for Brazil's seat would be to strengthen the sense of rapprochement between the two largest democracies and economies in the Americas.
This is bound to be amplified by the warm welcome Brazilians are expected to give to Mr Obama - no small feat for a president who has had difficulties in translating his personal popularity around the world into tangible results for his US policies.
Paulo Sotero is director of the Brazil Institute at the Woodrow Wilson International Center for Scholars, in Washington DC.