Mexico media agree drug war reporting guidelines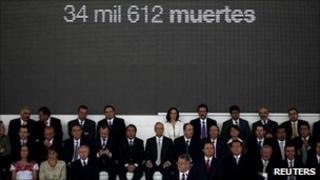 Many of Mexico's leading news organizations have agreed common guidelines on how to cover drug-related violence.
Newspapers and broadcasters agreed not to glorify drug traffickers or publish cartel propaganda.
They also promised joint action to protect journalists, at least 20 of whom have been killed since 2006.
The accord defends the media's right to criticise Mexican government policy and actions in the drugs conflict.
More than 40 media groups, which between them own over 700 television networks, radio stations and newspapers, signed the agreement at a ceremony in Mexico City.
Among them were the top broadcasters, Televisa and TV Azteca.
But some leading newspapers - including Reforma, La Jornada and Proceso - did not sign up.
Intimidation
The agreement was signed by media executives and journalists at a ceremony in Mexico City.
"The power of organised crime to corrupt and intimidate has become a threat to the institutions and practices that sustain our democracy," a joint statement said. "Today, freedom of expression is at risk."
The 10-point voluntary agreement says the media should "condemn and reject" organised criminal violence, and cover it in a measured way, putting it in the context of violence elsewhere.
It says the media must not allow itself be used to transmit propaganda for the drug cartels, or make their leaders look like "victims or heroes".
The accord also notes that Mexico is one of the most dangerous countries in the world for journalists, with more than 20 murdered since 2006.
It says media organisations should do more to protect their staff from violence, and respond in a coordinated way when any individual journalist or media outlet is threatened, intimidated or attacked.
In other points, it says news organisations should:
protect the rights of victims and children involved in the violence and never release information that puts them at risk.
treat people arrested as suspects rather than presume they are guilty.
not publish or broadcast information that endangers police and military operations.
report any violations of human rights by government security forces.
encourage Mexican citizens to report crime and help reduce violence without putting themselves at risk.
President Felipe Calderon has welcomed the agreement.
"Media participation is crucial in building state security policy," his office said in a statement.
"We encourage other sectors of society to promote initiatives like this one to confront those who want to destroy the peace and security of all Mexicans," it added.
President Calderon has in the past accused the media of exaggerating the scale of drug-related violence in Mexico, and criticised them for publishing statements and threats from the cartels
The international Committee to Protect Journalists (CPJ) said the agreement was "a national breakthrough that could set professional standards well into the future".
But critics say it could lead to restrictions on the media.
Journalist Genaro Villamil of the magazine Proceso - which did not sign the accord - said it "opened the door to a form of prior censorship," the AFP news agency reported.