Guatemala first lady Sandra Torres confirms divorce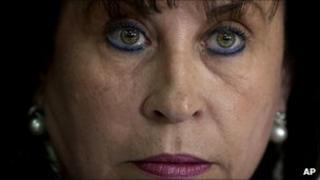 Guatemala's First Lady, Sandra Torres de Colom, has confirmed that she is divorcing president Alvaro Colom so she can stand for election to succeed him.
Ms Torres fought back tears as she told Guatemalans she was leaving a loving marriage for the sake of the nation.
"I am divorcing my husband but I am getting married to the people," she said at a news conference.
Guatemala's constitution bans close relatives of the president from standing to succeed him.
The main opposition candidate for September's presidential election - former Gen Otto Perez Molina - has called the first couple's divorce electoral fraud.
Ms Torres, 51, announced her candidacy for president for the governing party earlier this month.
Difficult decision
The news that she was seeking a divorce to overcome the constitutional block on her running for office emerged on Monday, but this is the first time she has publicly confirmed it.
She said the decision, which will force the first couple to live apart, was "very difficult".
"I am not going to be the first or the last woman who decides to get a divorce, but I am the only woman to get a divorce for her country," she said.
Ms Torres is Mr Colom's third wife and is already a divorcee. They have been married for eight years.
She has played a prominent role in Alvaro Colom's presidency, supervising the government's poverty relief programmes.
Critics have alleged that she wields even more power over her husband behind the scenes.
It is not clear if the constitutional ban on relatives of the president standing to succeed him includes ex-spouses.
The final say on whether Ms Torres can stand will rest with Guatemala's Constitutional Court.