Colombia investigates military jail 'special treatment'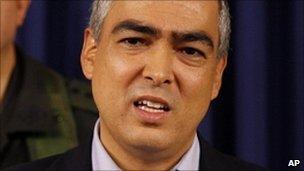 Prosecutors in Colombia say they will investigate the treatment of prisoners at one of the country's military jails, after a news magazine reported they were being given special privileges.
Semana magazine said many prisoners came and went as they pleased and lived in luxurious cabins.
Others were reportedly allowed to take holidays on the Colombian coast.
Defence Minister Rodrigo Rivera said he had already taken measures to reinstate discipline at the jail.
Mr Rivera said the country was fighting a culture of impunity, where crimes often went unpunished, and promised that the military would not be excluded.
"Those soldiers found guilty of crimes will have to abide by the prison rules without any privileges," he said.
According to the report by Semana, prisoners at Tolemaida, including those found guilty of human rights abuses, ran businesses inside the penitentiary and in many cases continued drawing their salaries.
Semana quotes inmates saying they were protected by those in high places within the military because there was "an interest in treating those well who had got their hands dirty in the country's war" - a reference to the fact that some of those allegedly given privileges were involved in the extrajudicial killing of civilians.
A commission tasked with investigating the alleged irregularities is due to report back within three months, Mr Rivera said.
Related Internet Links
The BBC is not responsible for the content of external sites.