Spain to welcome Cuban dissidents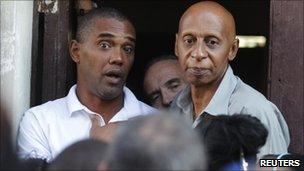 Spain has said that some 37 former Cuban political prisoners and their family members are expected to arrive in the country on Friday.
The former prisoners, along with some 200 relatives, are due to fly from Havana to Madrid on a plane chartered by the Spanish government.
It will be the largest such group to arrive since Spain reached a deal with the Cuban authorities last summer.
A Spanish minister said it would be a moment of pride for the country.
Ramon Jauregui, the country's minister of the prime minister's office, told the upper house of parliament that the government had the "honour and the pride to be able to say to the world that it has freed Cuba's prisoners of conscience".
Agreement to release the prisoners came in July 2010 after talks between President Raul Castro, Havana's Roman Catholic Archbishop, Cardinal Jaime Ortega, and Spanish officials.
The arrival of the group in Madrid will bring to 115 the number of those imprisoned in Cuba who have been transferred to Spain since last July, Efe reports.
Some 40 of those transferred belong to a group known as the Group of 75, arrested during a crackdown on dissenters in 2003.
After arriving in Spain, some have moved on to the US, Chile and the Czech Republic.
Cuba has always denied that it has political prisoners, calling them mercenaries paid by the United States to undermine Havana's rule.
But the death of Orlando Zapata Tamayo, a prisoner who died on hunger strike in February 2010 has increased the pressure on the Cuban government to free dissidents.