US expels Ecuadorean ambassador Luis Gallegos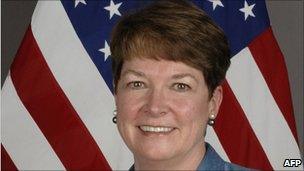 The US is expelling Ecuador's ambassador in Washington, in retaliation for Ecuador's expulsion of the US ambassador earlier this week.
Ambassador Luis Gallegos was summoned to the state department to be informed of the decision.
High-level talks scheduled for June have also been cancelled.
US ambassador Heather Hodges was asked to leave Quito on Tuesday after a US cable alleging corruption in Ecuador's police was published by Wikileaks.
"The unjustified action of the Ecuadorean government in declaring Ambassador Hodges persona non grata left us no other option than this reciprocal action," State Department spokesman Charles Luoma-Overstreet said.
Washington was "interested in a positive relationship with Ecuador," he added, but the "regrettable and unwarranted decision to declare Ambassador Hodges persona non grata" would affect relations.
In the US diplomatic cable released by Wikileaks, Ambassador Hodges suggested Ecuadorean President Rafael Correa was aware of corruption allegations against a senior policeman when he made him commander of the national police force.
Ecuador said it had decided to expel the ambassador after she failed to give a satisfactory explanation for the "irresponsible and false" accusations.
Ambassador Hodges is the second US ambassador in Latin America to leave their post over diplomatic cables released by Wikileaks, following the resignation of US ambassador to Mexico Carlos Pascual last month.
Ecuador's left-wing allies, Venezuela and Bolivia, also expelled US ambassadors in 2008, accusing them of political interference.