Sharp drop in Jamaica murder rate after gang crackdown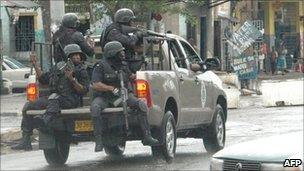 Jamaica says it has had significant success in bringing down its murder rate, one of the highest in the world.
The government said there had been a 44% drop in the number of killings in the first quarter of this year compared to the same period in 2010.
It said its policy of saturating gang-dominated areas with police and soldiers was succeeding.
But human rights groups say extra-judicial killings and other abuses by security forces have increased.
Police statistics showed there were 238 murders during the first three months of 2011 compared to 426 during the same period in 2010.
In central and western areas of the capital, Kingston, the murder rate was down 60%.
National Security Minister Dwight Nelson said the fall in the murder rate was the result of a strategy of confronting criminal gangs in their strongholds.
"We are very thankful for the reduction but we will not sit on the laurels of comfort, because the figures are still too high," Mr Nelson said.
"We will continue our pursuit".
Deputy police commissioner Glenmore Hinds said security forces were eroding the influence of violent criminal gangs who until recently controlled some parts of Kingston.
Jamaica's police and army began a major crackdown on criminal gangs in May last year during their pursuit of the suspected drugs lord Christopher "Dudus" Coke.
More than 70 people were killed in clashes before Mr Coke was captured and extradited to the US.
The human rights group Jamaicans for Justice says extra-judicial killings and other abuses by the security forces have increased since the crackdown began.
It says more than 400 civilians were killed during security operations in 2010 compared to 253 in 2009.
A "heavy-handed" approach has resulted in "an alienation of the populace and an even more difficult environment for fighting crime," the group says.
Related Internet Links
The BBC is not responsible for the content of external sites.