Freed Cuba dissidents arrive in Spain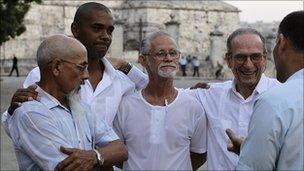 A plane carrying 37 recently freed Cuban political prisoners and their families has landed in Madrid, officials say.
They arrived on a flight chartered by the Spanish government as the final part of a deal brokered by the Catholic Church to free Cuban dissidents.
The deal, agreed in July 2010, saw Cuba agree to free 52 people held in jail after being rounded up in 2003.
Spain's El Pais newspaper says 115 ex-prisoners are now in exile in Spain.
The number includes more than 50 people freed by the Cuban government outside the terms of the Church deal.
They are accompanied by some 650 family members, El Pais adds.
As well as the 37 former prisoners, Friday's flight carried more than 200 of their family members, officials said.
More than 30 dissidents remain in Cuban jails, but Havana says those not freed are being held because of other charges, including terrorism, that prevent their release.
Related Internet Links
The BBC is not responsible for the content of external sites.