Brazil mourns Rio school shooting victims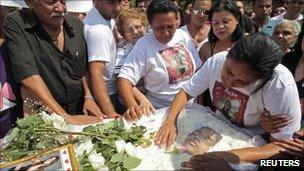 The first funerals have been held in Brazil for the 12 children killed by a gunman in a Rio de Janeiro school on Thursday.
A police helicopter dropped rose petals from above as hundreds of mourners crowded into a local cemetery.
The gunman, a former pupil at the school, killed himself after being wounded by police.
Brazil has been left in shock by the killings, and three days of national mourning are being observed.
Relatives wept as five of the victims were buried at a hilltop cemetery in Realengo, the poor suburb in western Rio where the shootings took place.
"This miserable man destroyed our family," said Jackson da Silva, godfather of murdered 13-year-old schoolgirl Laryssa Silva.
"He had no heart. What he did was horrific".
Mourning families were joined by police and politicians, as well as medical staff who attended the victims.
Eleven children are still in hospital after the attack, some of them in serious condition.
The killings were carried out by Wellington Menezes de Oliveira, 23, who had been a pupil at the Tasso da Silveira school.
Police say he went into a classroom with two revolvers and lined people up before shooting them in the head at close range.
Security video footage shows children running down hallways to escape as he reloaded his guns.
He shot himself in the head after being shot in the leg by a policeman, officials said.
The 12 children killed were between 10 and 13 years old, and all but two were girls.
A rambling suicide note was found on the killer's body.
In it, he gave no motive for the killings, but left detailed instructions on how he wanted to be buried and asked God for forgiveness.
Police say Menezes de Oliveira destroyed his home computer before the attack to conceal how he had planned it.
People who knew him described him as a quiet man with no friends who spent a lot of time on the internet.