US court acquits Cuba militant Luis Posada Carriles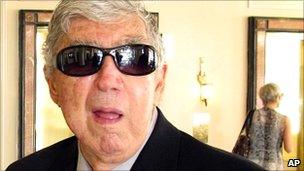 A US court has acquitted a veteran Cuban anti-communist activist and former CIA agent, Luis Posada Carriles, on immigration charges.
US federal prosecutors had accused him of lying to immigration officials, but a jury found him not guilty.
The verdict is likely to anger Cuba and Venezuela, where Mr Posada Carriles, 83, is wanted on terrorist charges.
Cuban exile groups have hailed the verdict as a "great defeat" for the Cuban government.
After a trial lasting 13 weeks, the jury in Texas took three hours to find Mr Posada Carriles not guilty on 11 counts including perjury and immigration fraud.
The verdict ends four years of efforts by US prosecutors to convict him.
He had been accused of lying to immigration officials about how he got into the US and about his alleged involvement in bomb attacks in Havana in 1997 in which an Italian tourist was killed.
Central to the prosecution case was an interview he gave to the New York Times in 1998 in which he said he had planned the attacks, although he later retracted the statement.
Cuba and Venezuela also want to extradite him for allegedly masterminding the bombing of a Cuban airliner in 1973, which killed 73 people.
A lawyer representing Venezuela, Jose Pertierra, said Caracas would now renew its efforts to have him extradited.
The US has previously refused to send Mr Posada Carriles to Cuba or Venezuela, saying he could face torture.
Luis Posada Carriles spent decades trying to overthrow the communist government in Cuba.
In 1976 he was jailed in Venezuela over the airline bombing, but escaped from prison in 1985.
He was then jailed in Panama in 2000 for plotting the assassination of his arch-enemy, the Cuban leader Fidel Castro, but was pardoned and released four years later.
Mr Posada Carriles has always denied involvement in the airline bombing and the alleged plot against Castro in Panama, but admits fighting for "freedom" in Cuba.
Declassified US documents show that he worked for the CIA between 1965 and 1976.
He is also said to have worked for the intelligence agencies of Venezuela, Guatemala, El Salvador, Argentina and Chile, and to have supported Contra rebels in Nicaragua, during his long campaign against left-wing influence in Latin America.
Related Internet Links
The BBC is not responsible for the content of external sites.