Cuba anger at US Posada Carriles verdict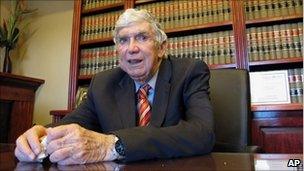 Cuba and Venezuela have condemned a US court's decision to acquit a veteran anti-communist militant and former CIA agent, Luis Posada Carriles.
Cuba called the outcome a "farce," and Venezuela said the US was protecting a known terrorist.
Mr Posada Carriles was cleared of US immigration charges on Friday.
Cuba and Venezuela accuse him of staging bomb attacks and plotting to kill Fidel Castro, and have demanded his extradition.
Mr Posada Carriles, 83, spent decades fighting to overthrow the communist government in Cuba and stop the spread of left-wing influence throughout Latin America.
He was on trial in Texas on charges of lying to immigration officials about how he entered the US and about his alleged involvement in bomb attacks in Havana in 1997 in which an Italian tourist was killed.
But a jury found him not guilty, ending a four-year effort by US federal prosecutors to convict him.
The Cuban foreign ministry blamed the US government for the outcome, saying it had "all the evidence" of Mr Posada Carriles' alleged involvement in terrorism.
It urged the US to "assume its responsibilities in the fight against terrorism without hypocrisy or double standards".
Venezuela expressed "indignation" at "an act of theatre" designed to "protect the terrorist Luis Posada Carriles".
It said it would renew its request to have Mr Posada Carriles extradited for his alleged role in the bombing of a Cuban airliner in 1973, which killed 73 people.
The US has previously refused to send Mr Posada Carriles to Cuba or Venezuela, saying he might face torture.
Cuba's communist government regards Mr Posada Carriles as one of its most dangerous enemies.
In 1976 he was jailed in Venezuela over the airline bombing, but escaped from prison in 1985.
He was then jailed in Panama in 2000 for plotting the assassination of his arch-enemy, the Cuban leader Fidel Castro, but was pardoned and released four years later.
Mr Posada Carriles has always denied involvement in the airline bombing and the alleged plot against Castro in Panama, but admits fighting for "freedom" in Cuba.
Declassified US documents show that he worked for the CIA between 1965 and 1976.
He is also said to have worked for the intelligence agencies of Venezuela, Guatemala, El Salvador, Argentina and Chile, and to have supported Contra rebels in Nicaragua.
Related Internet Links
The BBC is not responsible for the content of external sites.