Peru election: Humala-Fujimori run-off set for 5 June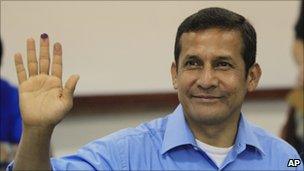 Peru's presidential election will go to a second round on 5 June, pitting former army officer Ollanta Humala against Keiko Fujimori, daughter of disgraced ex-leader Alberto Fujimori.
No candidate received the 50% needed to secure victory outright in the first round on Sunday.
With 75% of votes counted, Mr Humala has 29.3%, while Ms Fujimori has 22.9%.
Observers from the Organization of American States say no major logistical difficulties affected the election.
Former Minister of the Economy Pedro Pablo Kuczynski received 21.1%.
Former President Alejandro Toledo is also contesting the election.
Outgoing President Alan Garcia could not stand for a second term and his Apra party did not put forward a candidate.
Peru is enjoying an economic boom and the campaign focused on how to maintain growth while tackling widespread poverty.
Mr Humala, 48, who came second to Mr Garcia in 2006, campaigned on a promise to increase the state's role in the economy and redistribute wealth to Peru's poor majority.
His critics have compared him to Venezuela's left-wing President Hugo Chavez, but he has emphasised links with Brazil's governing Workers' Party.
Keiko Fujimori, 35, appealed to voters who still admire her father, president for a decade from 1990. He is now serving a 25-year jail sentence for corruption and organising death squads.
She has defended his record, saying by taming hyper-inflation and defeating Marxist Shining Path rebels, he laid the basis for Peru's current economic boom.
The prospect of a run-off between Mr Humala and Ms Fujimori has worried some Peruvians, including the Nobel Prize-winning author Mario Vargas Llosa, who has said it would be like "choosing between Aids and cancer".
Mr Vargas Llosa is an outspoken critic of left-wing politics and himself stood for president in 1990 only to be defeated by Alberto Fujimori.
On the eve of the election, Apra gave its support to Mr Kuczynski, 72.