Mexico violence: Morelos state security chief sacked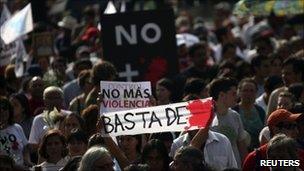 Head of Public Security in the central Mexican state of Morelos Gen Gaston Menchaca Arias has been removed from his post.
The move follows the murder two weeks ago of seven young people in Morelos.
The killings prompted the father of one of the victims to call for mass protests, which were attended by tens of thousands of Mexicans nationwide.
The father, Javier Sicilia, blamed Mexican politicians as well as criminal gangs for the killings.
Mr Sicilia, a poet, said Morelos was "rotten" and that its governor, Marco Adame, "played dumb" when it came to security.
Mr Sicilia has been protesting in the central square of the city of Cuernavaca, demanding those who killed his son and six other youngsters be brought to justice.
The public prosecutor's office in Morelos says it has identified those who allegedly carried out the crime, but no arrests have been made so far.
Mr Sicilia's son, 24-year-old Juan Francisco, was found dead inside a car along with six others in Cuernavaca on 28 March.
Police say a note found next to the bodies suggests the killings were carried out by one of the country's powerful drug cartels.
Analysts say state authorities in Morelos are being increasingly infiltrated by drug gangs.
Last year, the former head of public security in the state, Luis Angel Cabeza de Vaca, was investigated over alleged links with the Beltran Leyva drug cartel, which he denied.
Following the murder of his son, Javier Sicilia wrote an open letter to Mexico's politicians and criminals, in which he called President Felipe Calderon's campaign against the drugs gangs "badly planned, badly carried out and badly led".
"The citizenry has lost confidence in its governors, its police, its army, and is afraid and in pain".
Mr Sicilia also condemned the criminals as "subhuman, demonic and idiotic".
"We have had it up to here with your violence, your loss of honour, your cruelty and senselessness," he wrote.
Morelos Governor Marco Adame said he had named Gen Gilberto Toledano as the new head of public security.