Ingrid Betancourt's 'kidnapper' killed in combat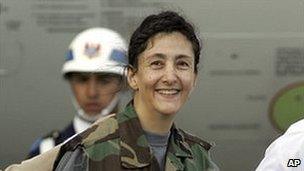 The Colombian military says one of the Farc guerrillas accused of kidnapping former presidential candidate Ingrid Betancourt has been killed.
Military officials said seven Farc members had died in combat in the southern province of Caqueta.
Among them was "Diomedez", wanted for allegedly taking part in the 2002 kidnapping of Mrs Betancourt.
Mrs Betancourt spent more than six years in captivity before being freed by Colombian soldiers.
She was one of 15 hostages freed in July 2008 as part of Operation Checkmate, when the rebels were tricked into handing her and the other hostages over to soldiers masquerading as members of a humanitarian group who had volunteered to fly them by helicopter to a new location.
Military officials said a female rebel had been injured in the firefight and was recovering in hospital.
They said they seized weapons, propaganda material and communications equipment in the dense jungle area where the fighting took place.
Related Internet Links
The BBC is not responsible for the content of external sites.