Mexico: Zetas cartel blamed over Tamaulipas mass graves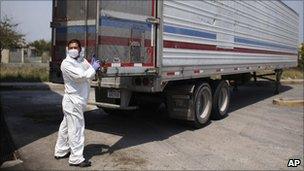 The number of bodies found in mass graves in north-eastern Mexico over the past week has risen to 116, after 28 more corpses were discovered.
Forensic experts said the number of dead could rise even further as they continued to excavate the area.
The Mexican government says the Zetas drug cartel is behind the killings.
The discovery resembles last year's find of 72 dead migrants, who were killed for refusing to join the ranks of the cartel which had abducted them.
Mexican Attorney General Marisela Morales said the 116 had died "as a result of criminal actions apparently caused by actions by the Zetas criminal group".
So far, only two of the bodies have been identified. One is a Mexican from the city of Matamoros, another is believed to be a migrant from Guatemala.
Seventeen people have been detained in connection with the killings.
Hundreds of people have gathered at the morgue in Matamoros, where the bodies have been taken.
They are relatives and friends of people who have gone missing in Mexico and who fear their loved ones may be among those found in the mass graves.
The find of the latest graves follows a tip-off by a suspect who was detained on Saturday.
Police said he had confessed to the kidnapping and subsequent killing of dozens of victims, who were travelling through the area on buses.
The first eight mass graves with 59 bodies were found on Thursday. Thirteen more bodies were discovered the following day in two other graves.
Another 16 corpses were dug up on Monday, and 28 more on Tuesday.
Tamaulipas state, where the mass graves where found, is at the centre of a bloody battle between rival drug gangs for control of the lucrative drug-smuggling routes to the US.
Around 35,000 people have been killed in drug-related violence in Mexico since President Felipe Calderon declared war on the country's drug cartels.