Peru election: Humala, Fujimori court moderate voters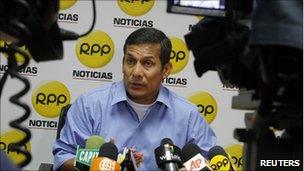 The two candidates to go through to the second round of the presidential elections in Peru, Ollanta Humala and Keiko Fujimori, are wooing voters for the second and final round on 5 June.
Neither candidate gained the 50% needed to secure victory outright in the first round on Sunday.
Analysts say the race between left-wing Mr Humala and conservative Keiko Fujimori could polarise the country.
But the candidates tried to reassure voters of their wider appeal.
Peru is enjoying an economic boom and both candidates focussed on how to maintain growth while tackling widespread poverty.
Former army officer Ollanta Humala, 48, tried to calm the nerves of investors, some of whom had expressed worry over his possible election.
Mr Humala, who came second to President Alan Garcia in the 2006 election, said he would uphold concessions given to private companies and respect the independence of Peru's central bank.
Speaking on Peruvian radio, Mr Humala said he wanted to take his cues from Brazil's economic programme.
"We recognise there is a successful process underway in Brazil, which has accomplished economic growth that combines social inclusion with respect for macroeconomic equilibrium," he said.
Keiko Fujimori, 35, the daughter of former president Alberto Fujimori, tried to win over those voters who did not support her father.
Alberto Fujimori is still respected by many for fighting the country's Shining Path guerrilla and putting an end to hyper-inflation.
But he is rejected by many others for the human rights abuses which landed him with the 25-year prison sentence he is currently serving.
Ms Fujimori has defended her father's record, saying that he laid the basis for Peru's current economic boom.
She promised to follow the economic model he introduced, while improving social programmes offering food to the needy and expanding infrastructure in poor areas of the country.