Brazil lawmakers to propose referendum on gun law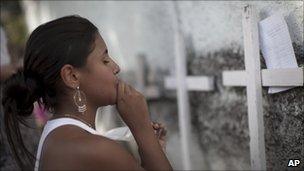 Brazilian lawmakers say they will propose a national vote on whether to ban the sale of guns, after a deadly shooting at a school last week.
The Senate leader said legislators would rush through a bill to allow a referendum to be held this autumn.
A similar proposal in 2005 was rejected by voters and kept gun sales legal.
Brazil observed three days of mourning after the attack on 7 April, in which a gunman shot dead 12 children in a school in Rio de Janeiro.
Brazil is no stranger to gun violence, with frequent shoot-outs in major cities, but the attack in Rio de Janeiro shocked the nation.
The shooting sparked a debate over gun sales that has left lawmakers unable to ignore the issue.
The bill would have to be approved by both the Senate and the House before going on the ballot.
The leader of Brazil's Senate, Jose Sarney, said any referendum would be held at the beginning of October - the earliest possible date for the bill to pass and the referendum to be called.
Brazil held a similar referendum in 2005 under former President Luiz Inacio Lula da Silva, but 64% voted against a ban.
Four students remain in hospital, two of them in critical condition, after the attack, the Rio state health department said on Tuesday.
Police are investigating the motive of the gunman, Wellington Menezes de Oliveira, a 23-year-old former pupil at Tasso da Silverira school.
Officials say he went into a classroom with two revolvers and lined victims up before shooting them in the head at close range.
Security video footage shows children running down hallways to escape as he reloaded his guns.
He shot himself in the head after being shot in the leg by a policeman, officials said.
The 12 children killed were between 10 and 13 years old, and all but two were girls.