More bodies found in mass graves in northwestern Mexico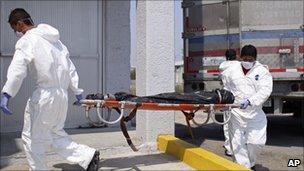 Forensic experts in Mexico have found 13 bodies buried in shallow graves in northwestern Sinaloa state.
Investigators said the victims had been shot in the head, execution-style.
The find comes at the same time as officials unearthed another 10 bodies in the northeastern state of Tamaulipas, bringing the total to 126.
Mexican Interior Secretary Francisco Blake Mora said the government would not tolerate such atrocities and promised to send more troops.
He said the military would not leave the area until those responsible for the crime had been caught.
Authorities were alerted to the mass graves in Sinaloa by a local farmer who noticed a strong smell coming from the field where the bodies were buried.
The bodies were found in seven shallow pits. Forensic experts said the victims were killed some five or six months ago.
Two of the victims were female and were wearing clothes which match those of two students who went missing in October.
Officials said they were still awaiting DNA and dental tests to confirm if they were indeed the two students.
One of the male bodies is believed to be that of Edgar Binuela Gutierrez, a doctor who was kidnapped in August in a nearby town.
Investigators said they could identify him because he was wearing a bracelet bearing his name when he was killed.
The discovery of the Sinaloa graves came as investigators continued to unearth bodies from mass graves in Tamaulipas state, where a total of 126 have now been uncovered over the past week.
The Mexican government blamed the Zetas drug cartel for those killings. The authorities have arrested 17 people in connection with the discovery of the bodies.
The federal government has deployed a special investigative team to try and track down the leaders of the cartel.
Founded by former members of the Mexican special forces, the Zetas cartel is widely believed to be one of the most ruthless groups operating in the country.
Well-trained and well-armed they first acted as hitmen for the Gulf cartel, before setting up their own criminal organisation, police say.
They are also believed to be behind the killing last August of 72 migrants from South and Central America, who were killed in the same town for refusing to join their ranks.