Argentina former military ruler Bignone gets life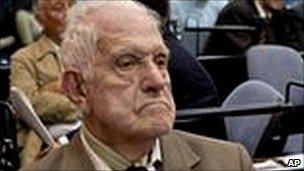 Argentina's last military ruler, Reynaldo Bignone, has been sentenced to life in prison for the torture and murder of political opponents more than three decades ago.
Four other former soldiers and police officers were also convicted.
The trial is the latest in a series related to military rule in Argentina in 1976-83, when around 30,000 people were killed or made to disappear.
Gen Bignone, 83, was already serving a 25-year sentence for other killings.
This case related to the abduction and murder of left-wing activists in the town of Escobar outside Buenos Aires after the coup of 1976 that ushered in military rule.
Among those killed were the former left-wing militant, Gaston Goncalves, and the former congressman, Diego Muniz Barreto.
Also sentenced to life in prison were former Gen Santiago Riveros, former army intelligence officer Martin Rodriguez and the former mayor of Escobar, Luis Patti, who was a policeman at the time of the killings.
Another former policeman, Juan Fernando Meneghini, was jailed for six years.
In his final defence, Gen Bignone said the civil court was not "competent" to judge him.
Human rights groups and relatives of the victims applauded when the sentences were read out in a Buenos Aires court.
"This is a historic day for all Argentines of goodwill," said Estela de Carlotto, leader of the Grandmothers of the Plaza de Mayo human rights group.
"Many countries are viewing Argentina with growing respect because we are carrying the banners of truth and justice on behalf of the 30,000," she added.
Gen Bignone served as de facto president of Argentina in 1982-83, at the end of military rule, and oversaw the return to democracy.
Last year he was given a 25-year sentence for abduction, torture and murder of 56 people held at the Campo de Mayo military base outside Buenos Aires.
He is also on trial for his alleged role in the systematic theft of babies from political prisoners.
Hundreds of investigations into alleged human rights abuses during military rule have been opened since 2005, when Argentina's Supreme Court overturned an amnesty law.
Related Internet Links
The BBC is not responsible for the content of external sites.