Colombia mudslide engulfs bus after heavy rain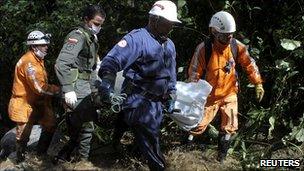 A mudslide caused by heavy rain has engulfed a bus in Colombia, killing at least 14 people, officials. say.
The bus was leaving the central city of the city of Manizales when it was hit by a collapsing hillside and swept into a ravine.
Rescuers have been searching for six others missing after the accident.
Over the past year Colombia has suffered widespread floods that have killed more than 300 people and forced 2 million from their homes.
Emergency workers have been recovering bodies from the bus, which was completely buried by mud and rock.
Some parts of Manizales have been evacuated because of the risk of further landslides.
The 2010-11 rainy season in Colombia has been been the worst in Colombia's recent history, flooding huge areas and causing damage that will cost billions of dollars to repair.
Related Internet Links
The BBC is not responsible for the content of external sites.