Mass grave found in Durango, Mexico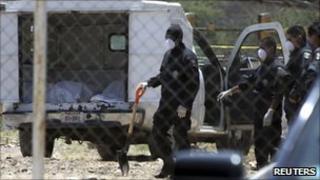 Mexican officials say they have found another mass grave in the northern state of Durango.
Police discovered 30 bodies in a residential area of Durango city.
The discovery comes as forensic experts continued to try and identify the remains of 145 people buried in mass graves in northern Tamaulipas.
The northern states are at the centre of a violent battle between rival drug gangs for control of lucrative smuggling routes to the United States.
Durango state prosecutor Ramiro Ortiz Aguirre said the search for more bodies was continuing.
He said the morgue was running out of space to store the bodies and asked for help providing extra refrigerated space.
Forensic experts said the bodies were in an advanced state of decomposition.
Durango is in an area where the powerful Sinaloa drugs cartel operates.
The cartel is led by Joaquin "Shorty" Guzman, the most wanted man in Mexico.
Almost 37,000 people have died in drug-related violence in Mexico since President Felipe Calderon declared war on the drug cartels shortly after he came into office in December 2006.