Mexican police free 51 workers taken hostage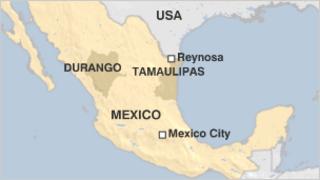 Mexican police have rescued 51 kidnap victims in the north-eastern state of Tamaulipas.
Officers raided a house in the city of Reynosa, freeing 27 Mexican, 18 Central Americans and six Chinese migrant workers.
The operation comes a week after authorities rescued 68 people, also in Reynosa.
The plight of migrants was highlighted last August when 72 people were found murdered on a ranch in northern Mexico.
According to Mexico's National Human Rights Commission, more than 11,000 migrants were abducted over a six-month period last year.
Many are snatched by criminal gangs, either to extort money from their families or in some cases to force them to work for the drug cartels.
Crossing point
People freed in last week's operation told police they had been seized when gunmen working for a drug cartel hijacked the buses they were travelling on.
Reynosa is one of the key border crossing points used my immigrants trying to reach the US.
Some regions of Mexico have seen rising violence as rival gangs battle for control of lucrative smuggling routes to the US.
Earlier this month, mass graves were discovered in Tamaulipas which officials now say contained 177 bodies.
In Durango, 37 bodies have been found in unmarked graves in recent days.
Some 35,000 people have died in drug-related violence in Mexico since President Felipe Calderon declared war on the drug cartels shortly after he came into office in December 2006.