Venezuela deports alleged Farc member to Colombia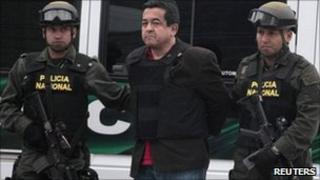 Venezuelan authorities have deported an alleged top Farc guerrilla to Colombia, in the latest sign of improving relations between the two countries.
Joaquin Perez is accused of running the Sweden-based Anncol website that regularly publishes Farc communiques.
Mr Perez, who denies belonging to the Farc, was detained in Venezuela on Saturday after arriving from Europe.
Colombian President Juan Manuel Santos thanked his Venezuelan counterpart, Hugo Chavez, for his co-operation.
Mr Santos told Colombian newspaper El Tiempo that he had personally called Mr Chavez to inform him that Mr Perez was on a flight to Venezuela and to request his detention.
"It is another sign that Chavez is true to his word. We thank him for it," Mr Santos said.
He said Mr Perez was the head of the Farc's international front in Europe.
Arriving in Bogota on Monday, Mr Perez, also known as Alberto Martinez, told reporters he was a "social communicator", and was not a Farc member.
Accusations by former Colombian President Alvaro Uribe that Venezuela was giving refuge to Farc guerrillas led to a break-down in relations between the two neighbours last July.
But since Mr Santos took office in August, ties have warmed.