Venezuela President Hugo Chavez meets Libyan delegation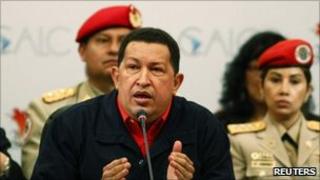 Venezuelan President Hugo Chavez says a delegation of Libyan officials is in Venezuela to seek ways to end the conflict in the North African country.
The Venezuelan president has proposed talks between the rebels and the government.
He said he would try to garner support for a peaceful solution.
President Chavez is a close ally of Libyan leader Muammar Gaddafi and has condemned what he called the "indiscriminate bombing" of Libya.
'Madness'
Speaking during a a meeting of Latin America and Caribbean foreign ministers President Chavez said he was determined to find "a political solution to the drama the Libyan people were living".
He said the bombing of Libyan cities by Nato was "madness" and accused the United States of wanting to "lay its hands on Libya's oil and water".
A Nato airstrike damaged Col Gaddafi's compound in Tripoli on Monday.
"We've had enough abuse, wars and invasions directed against third world countries," President Chavez said.
On Monday, President Chavez expressed his support for Syrian leader Bashar al-Assad, blaming "terrorists" for the protests in the town of Deraa.
The protests have been met with deadly force by the Syrian security forces.
Syrian human rights organisation Sawasiah says more than 400 civilians have been shot dead in the government's campaign to crush the month-long pro-democracy protests.
Bur Mr Chavez accused the international media of jumping to conclusions.
"Terrorists are being infiltrated into Syria and producing violence and death -- and once again, the guilty one is the president, without anyone investigating anything," the Venezuelan president said.