Guatemala arrests suspected drug kingpin sought by US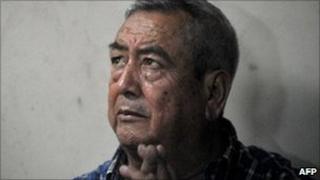 Guatemalan police have arrested Waldemar Lorenzana Lima, wanted by the US for his alleged links to Mexico's powerful Sinaloa drug cartel.
Mr Lorenzana, 71, was detained outside Guatemala City with the help of US agents, officials said.
He is accused of working with the Sinaloa gang to smuggle cocaine from Colombia to the US.
Mexican cartels have stepped up their influence in Guatemala, where law enforcement is weak.
Mr Lorenzana, a Guatemalan national, was stopped in the municipality of El Jicaro, 65km (40 miles) from the capital, Guatemala City.
The suspected trafficker, nicknamed the Patriarch, had been sought by the US since 2009, which had offered a reward of $500,000 for information leading to his arrest.
Interior Minister Carlos Menocal said agents from the FBI and the US Drug Enforcement Administration (DEA) had helped in the investigation.
In April last year, the US treasury department put Mr Lorenzana and his sons, Eliu, Haroldo and Waldemar, on a list of alleged drug kingpins.
His sons are still at large.
The US is likely to request Mr Lorenzana's extradition.
Guatemala and much of Central America is facing growing violence, much of it linked to drug gangs.
In March, US President Barack Obama promised $200m (£125m) in extra funds for the fight against organised crime in Central America during a visit to neighbouring El Salvador.
The UN has also promised more international support for Central America, amid concerns that the region's government's do not have the resources to contain the growing power of the drugs cartels.