Farc rebels blamed for deadly attack on Colombia police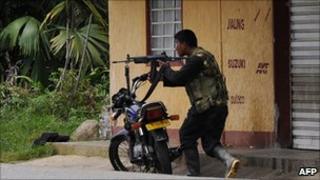 Five Colombian police have been killed in two separate attacks by left-wing Farc guerrillas, officials say.
Three officers died and three civilians were injured when a car bomb exploded in the south-western province of Cauca.
Two more officers were shot dead by suspected Farc rebels in Choco province, further north.
The security forces say they are increasingly being targeted by the rebels, possibly in retaliation for the killing of some of the group's leaders.
Gen Orlando Pineda said the car bomb which left three police dead in Cauca was part of an attack by the Farc aimed at taking control of the village of Jambalo.
'Revenge attacks'
The car bomb exploded outside Jambalo's police station, injuring a woman, a child and another civilian, as well as killing the three officers.
Gen Pineda said the security forces were pursuing the rebels, who have fled to a nearby mountain range.
The general says the attack was in retaliation for a number of operations by the security forces in the area, during which they seized tonnes of marijuana and cocaine.
Two police died in the separate in Choco province, when alleged rebels carrying long-range weapons opened fire.
According to Choco governor Malcolm Ali Cordoba, the two agents were trying to stop a boat carrying Farc rebels.
Colombian security forces have killed a number of Farc leaders over the past year, and arrested many others.
The group's top military commander Jorge Briceno, better known as Mono Jojoy, was killed in an army bombing raid last September.
And the army says it is getting ever closed to Farc leader Alfonso Cano, whose head of security it killed in March.