Mexico mine blast: 'No hope' for Coahuila missing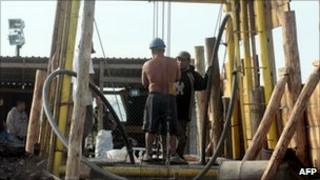 Rescue workers in Mexico have recovered two more bodies from a coal mine which caved in after a gas explosion on Tuesday, bringing the total to 11.
Fourteen miners were trapped underground when the blast shook the vertical-shaft mine in northern Mexico.
Three miners remain missing, but officials say there is no hope of finding them alive.
Mexican Labour Minister Javier Lozano Alarcon said the men's deaths would prompt reforms in the mining sector.
Mr Lozano Alarcon said heavy fines would be imposed on those who flout safety regulations.
Powerful blast
Miners had been taking turns to dig away at the rubble but officials say there is no hope anyone survived.
The pit is situated near the site of one of the country's worst mining disasters, in San Juan de Sabinas.
Sixty five men died there in 2006.
"I'll bring up my son's body in pieces if I have to," said one miner, Adolfo Gonzalez, as he rested after searching for the remaining bodies.
Tuesday's methane blast was so powerful that it was reported to have seriously injured a teenager who was working outside the mine.
The small mine, in Coahuila state close to the border with the US, had been operating for less than a month.
In a separate incident officials said late on Thursday that three people apparently searching for semi-precious stones had died after a landslide damaged an opal mine in the western state of Jalisco.