Mexico drugs cartel shoot-out on US border kills 13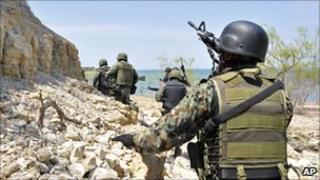 Mexican marines have killed at least 12 suspected members of the Zeta drugs cartel after stumbling upon a camp at a lake on the Mexico-US border.
A soldier was also killed in the gunbattle on Sunday.
The camp was on an island in Falcon Lake, a dammed section of the Rio Grande, in the north-eastern state of Tamaulipas.
The authorities believe the gang used the base for smuggling marijuana into the United States by speedboat.
Turf war
The Mexican navy said the gunmen opened fire first, when a marine patrol discovered their encampment.
The authorities seized more than 20 guns after the shootout, including several assault rifles.
Falcon Lake is where the American citizen David Hartley is thought to have been chased and gunned down last September. His body has not been found and Mexican investigators have reported no progress in the case.
The Zetas are locked in a fierce turf war with the Gulf cartel that has turned much of Tamaulipas state into a virtual war zone.
Last month security forces discovered more than 40 graves containing 183 bodies. Many of the victims had apparently been pulled off passenger buses by Zetas gunmen trying to recruit them.