Mexico police raid 'La Familia drug cartel', killing 11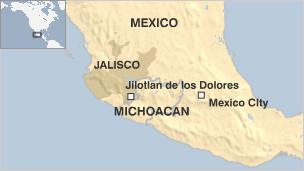 Police in Mexico say they have killed 11 suspected members of the powerful La Familia drug cartel after a shoot-out at a ranch in western Jalisco state.
Two policemen were injured in the raid that led to the arrest of 36 people, including three top cartel leaders.
Police say the arrests will weaken La Familia, which has a reputation for violence but claims to protect local communities and promote family values.
They say the group was behind Tuesday's shooting-down of a police helicopter.
Police said they planned the raid after receiving a tip-off about a meeting between alleged gang members at a ranch in Jalisco state, near the cartel's stronghold of Michoacan.
Federal police commissioner Facundo Rosas said among those arrested were three top members of the cartel.
"They were hiding in Jalisco, waiting for instructions from their boss and planning an attack on a group which calls itself the Knights Templar, with which they're at war," Mr Rosas told reporters at a news conference.
The police commissioner described the Knights Templar as an offshoot of La Familia, which had split from the cartel after the killing by security forces of La Familia leader Nazario Moreno in December 2010.
Police said they seized 70 long-range weapons and 14 pistols, many of them encrusted with gold, silver and precious stones.
They also secured more than 20,000 rounds of ammunition and 40 bullet-proof vests.
Fighting between rival factions of the La Familia cartel displaced at least 2,000 people from their homes in Michoacan state this week.
Related Internet Links
The BBC is not responsible for the content of external sites.