Honduras: Ousted President Manuel Zelaya returns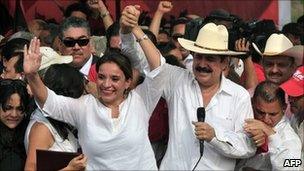 Former Honduran President Manuel Zelaya, who was ousted from office in 2009, has returned to Honduras.
Mr Zelaya was forced into exile by the military after he failed to abide by a Supreme Court order to cancel a non-binding vote on changing the constitution.
Thousands of supporters greeted him at the airport in Tegucigalpa.
A deal signed by Mr Zelaya and current President Porfirio Lobo on Monday helped pave the way for his return.
Mr Zelaya arrived on board a private plane from Nicaragua.
He admitted that his exile had been "torture".
Later he told cheering supporters in Tegucigalpa: "We arrive full of optimism and hope to search for an exit to this crisis. At one moment we had almost lost it all, but they never defeated us."
He urged an end to "coups" in Honduras, saying that resistance should be "peaceful".
"The problem of poverty, of corruption, of the great challenges of Latin American societies won't be resolved through violence, but through more democracy," the former president said.
His wife, Xiomara Castro, said: "Today we begin the true reconciliation in Honduras."
Mr Zelaya's return became possible after he signed an agreement with his successor, Mr Lobo, in Colombia on Monday.
The accord, negotiated by the Venezuelan and the Colombian presidents, also prepares the way for Honduras's re-entry in the Organisation of American States.
Honduras had been expelled from the regional body after Mr Zelaya's forced departure.
The 2009 crisis was triggered by Mr Zelaya's decision to hold a non-binding referendum on 28 June to ask people whether they supported moves to change the constitution.
His critics said the move was aimed at removing the current one-term limit on serving as president, and paving the way for his possible re-election.
Mr Zelaya repeatedly denied he was seeking re-election.
The consultation was ruled illegal by the Supreme Court and Congress, and was opposed by the army.
When Mr Zelaya insisted the consultation go ahead, Congress voted to remove him for what it called "repeated violations of the constitution and the law", and the Supreme Court said it had ordered the president to be removed from office to protect law and order.
He was bundled on to a plane to Costa Rica.
Mr Zelaya repeatedly tried to return to Honduras.
On 5 July 2009, he boarded a plane headed for Honduras, but it was blocked from landing.
Later that month, he made a brief but symbolic crossing into Honduras across its border with Nicaragua, where he was then living in exile.
Two months later, he returned to Honduras, appearing in the Brazilian embassy in Tegucigalpa.
But just days after President Lobo was sworn into office in January 2010, Mr Zelaya decided to leave for the Dominican Republic.
His removal from office left Honduras politically isolated for several months.
However, a period of relative stability began with Mr Lobo's election and many governments, including the US, proceeded to recognise the Honduran government's legitimacy and re-established the ties cut during the height of the crisis.
Earlier this month, a court in Honduras dropped all corruption charges against Mr Zelaya, clearing the way for his return.
Mr Zelaya had described the charges of fraud and falsifying documents as politically motivated.
As part of the accord signed on Monday, Mr Zelaya will also be permitted to participate in Honduran politics.