Bolivia apologises to Argentina for Iran minister visit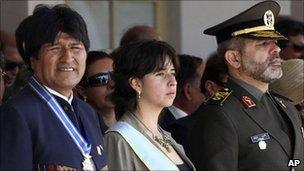 Bolivia has apologised to neighbouring Argentina for inviting Iranian Defence Minister Ahmad Vahidi for a visit.
General Vahidi is wanted by Argentina for allegedly masterminding the 1994 bombing of a Jewish centre in Buenos Aires that killed 85 people.
Bolivian Foreign Minister David Choquehuanca wrote to his Argentine counterpart, saying Mr Vahidi would be leaving immediately.
Iran has long denied any involvement in the bombing.
On Tuesday, Gen Vahidi attended a military ceremony in the city of Santa Cruz, in the presence of Bolivian President Evo Morales.
The Argentine authorities reacted immediately to news of Gen Vahidi's visit, notifying Bolivian officials that they had sought his arrest since 2007.
Guillermo Borger, head of the Amia, the Jewish association whose building was destroyed in 1994, called Gen Vahidi's presence a "provocation".
Bolivian Foreign Minister David Choquehuanca subsequently sent a letter to Hector Timerman, his Argentine counterpart, expressing his government's "deepest apologies".
The invitation, Mr Choquehuanca wrote, had been issued by the Bolivian defence ministry which did not know the background to the case and had not co-ordinated with other departments.
The Iranian minister would be leaving immediately, the letter said.
Sources told Reuters news agency that the minister had departed Bolivia late on Tuesday.
At the time of the Amia attack, Gen Vahidi was the commander of a special unit of Iran's Revolutionary Guard known as the Quds Force.
Iran has repeatedly said none of its nationals were involved in the 1994 bombing.
Related Internet Links
The BBC is not responsible for the content of external sites.