Argentine law targets smoking in enclosed public spaces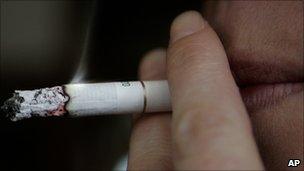 Legislators in Argentina have voted to ban smoking in all enclosed public spaces, as part of a comprehensive series of anti-tobacco measures.
Members of the lower house of Congress voted overwhelmingly to approve the legislation, which had been passed by the Senate last year.
The legislation will ban tobacco advertising and sponsorship.
It will also force manufacturers to put public health warnings on cigarette packets.
It will become illegal to sell cigarettes to under-18s, and the practice of selling single cigarettes will end.
One of its main backers, Senator Daniel Filmus, described the legislation as one of "the most advanced in the world" and said it would save thousands of lives.
Argentina's Health Minister Juan Manzur hailed the vote.
"At last Argentina has a national law controlling tobacco, which puts limits on a habit that sadly many citizens have, and which is highly toxic," he said.
The measure aims to end smoking in bars, restaurants and workplaces.
People will still be able to smoke in places like patios, balconies and terraces, unless they are situated in schools or hospitals.
Those who break the law will face fines worth the equivalent of between 250 and 1,000,000 packets of the most expensive cigarettes on the market.