Chile judge orders Pablo Neruda death probe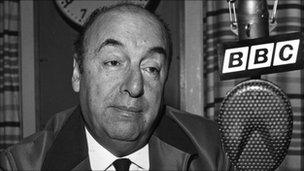 A judge in Chile has ordered an investigation into the death, in 1973, of the Nobel prize-winning poet, Pablo Neruda, following allegations he may have been poisoned.
Neruda - a Communist and a friend of President Salvador Allende - died in the immediate aftermath of the military coup that brought General Augusto Pinochet to power.
The poet's family has always maintained that he died in a Santiago clinic of advanced prostate cancer, aged 69.
The foundation that guards his legacy has said in a statement there is "no proof whatsoever that suggests Pablo Neruda died of causes other than cancer".
But, pressed by Chile's Communist Party, a judge has now ordered a murder investigation.
This follows allegations from his former driver, Manuel Araya Osorio, that agents injected Neruda with poison at the clinic on the orders of General Pinochet, twelve days after the coup.
Neruda had severely criticised the military for what he saw as a betrayal of his country.
His death is not the only one from that turbulent time to be re-examined recently.
The remains of President Allende were exhumed last month on the orders of the same judge, in an effort to clarify whether he committed suicide - as is widely believed - or was killed by soldiers who stormed the presidential palace during the coup.
Related Internet Links
The BBC is not responsible for the content of external sites.