Mexico gunmen kill 11 at Torreon drugs clinic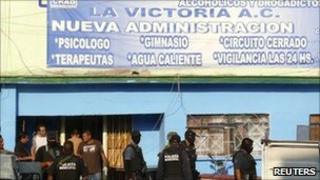 Gunmen have attacked a drugs treatment centre in northern Mexico, killing 11 people and injuring two others.
Police said at least two armed men burst into the centre in Torreon, in Coahuila state, and opened fire.
Dozens of people have been killed over the past two years at such centres, in what officials say are often revenge attacks on rival drug gang members.
In another development, officials say 429 bodies have been found since April in graves in Durango and Tamaulipas.
On Tuesday afternoon, gunmen in at least two vehicles drew up at La Victoria drugs clinic in Torreon and stormed inside, police said.
Two of the people being treated there survived by hiding under their beds.
The motive for the shooting was not clear but officials said it was likely to be the work of drug gang hitmen.
'Splintering'
Forensic teams working on mass graves discovered earlier this year have now found a total of 236 bodies in the northern state of Durango, Mexico's Attorney General Marisela Morales said at a news conference on Tuesday.
Many of the corpses appeared to have been buried for a considerable time, increasing the difficulty of identification, she said.
Ms Morales said it appeared the victims were killed in an internal battle for control within the Sinaloa cartel.
In the town of San Fernando in Tamaulipas, 193 bodies have now been found in 47 clandestine graves.
Most are believed to be migrants abducted from long-distance buses travelling north to the US border.
Officials believe cartel hitmen may have killed the migrants after they refused to join their ranks or seized them to extort money.
Ms Morales, who was recently appointed, said that the drug gangs had been weakened by the government's actions.
Cartels were splintering into smaller groups and fighting among themselves for control of drug routes, she said.
"Colombia lived through the same phenomenon and it is how the fight against organised crime evolves," Ms Morales said.
Since late December 2006, when President Felipe Calderon launched a crackdown on the gangs, some 35,000 people have died in drug-related violence.